The Lamb's "Book of Life"
Sovereign Grace Baptist Church Guestbook
Please note: Your entry of contact information or comments in our Guestbook will not result in any solicitation or other sharing of information.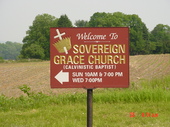 Thank you for visiting SOVEREIGN GRACE BAPTIST CHURCH! Check back with the website regularly for further news and events that may interest you.

Now that you're in our Guestbook, it is our sincere prayer that you will consider a far more important question--one with eternal significance. Is Your name written in the Book of Life, that guarantees salvation and eternal life with the Lord Jesus Christ in Heaven?

And there shall in no wise enter into it any thing that defileth, neither whatsoever worketh abomination, or maketh a lie: but they which are written in the Lamb's book of life. (Revelation 21:27 KJV)

Do not hesitate to contact us for more information regarding the blessed hope and assurance that is promised in Jesus Christ alone!

back to top